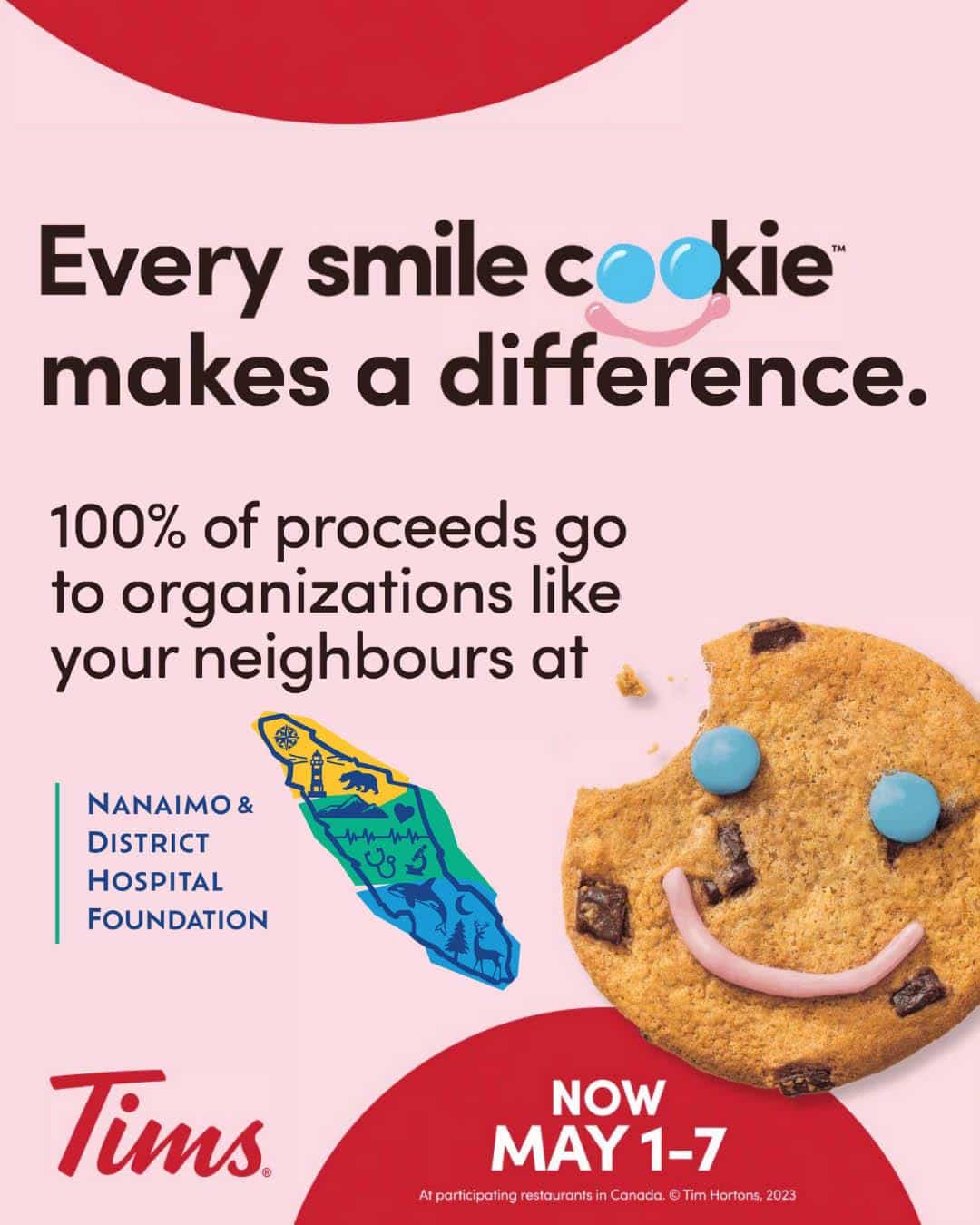 100% Cookie Sales Donated to Nanaimo & District Hospital Foundation
NANAIMO, BC – Smile Cookie Week is almost here, with the annual campaign taking place from – May 1 – 7. During this week, Tim Hortons chocolate chunk cookies will transform into something incredibly special: Smile Cookies – hand-decorated treats that raise money for local charities across the country.
100% of proceeds from each Smile Cookies purchased at Nanaimo Tim Horton restaurants between May 1st and 7th will be donated to Nanaimo & District Hospital Foundation directed towards the High Acuity Unit and ICU projects at NRGH. Cookies are on sale during this week for $1.50 plus applicable taxes.
"We are thrilled to be the partner recipient for the 2023 Smile Cookie campaign," shared Nanaimo & District Hospital Foundation CCL (Chief Cookie Lover) Barney Ellis-Perry. "Last year's campaign was a great success raising over $45,000 thanks to the generosity of our community members and year to date totals of $270,000 proving the old adage, good things come from those who eat cookies!"
Please join us for a special Smile Cookie kick-off event:
When: Tuesday, May 2, 2023 1:30-3:00 pm
Where: Tim Horton's Rock City (2980 Island Hwy N Unit 200)
Who: Join NDHF Barney Ellis-Perry and NDHF Board Chair Tony Harris and other key community members as they decorate smile cookies for this year's Smile Cookie campaign.
Assets:
We have some great videos and photos to help share the word of Smile Cookie week. Please find these materials here: