Thank you for supporting your local hospital!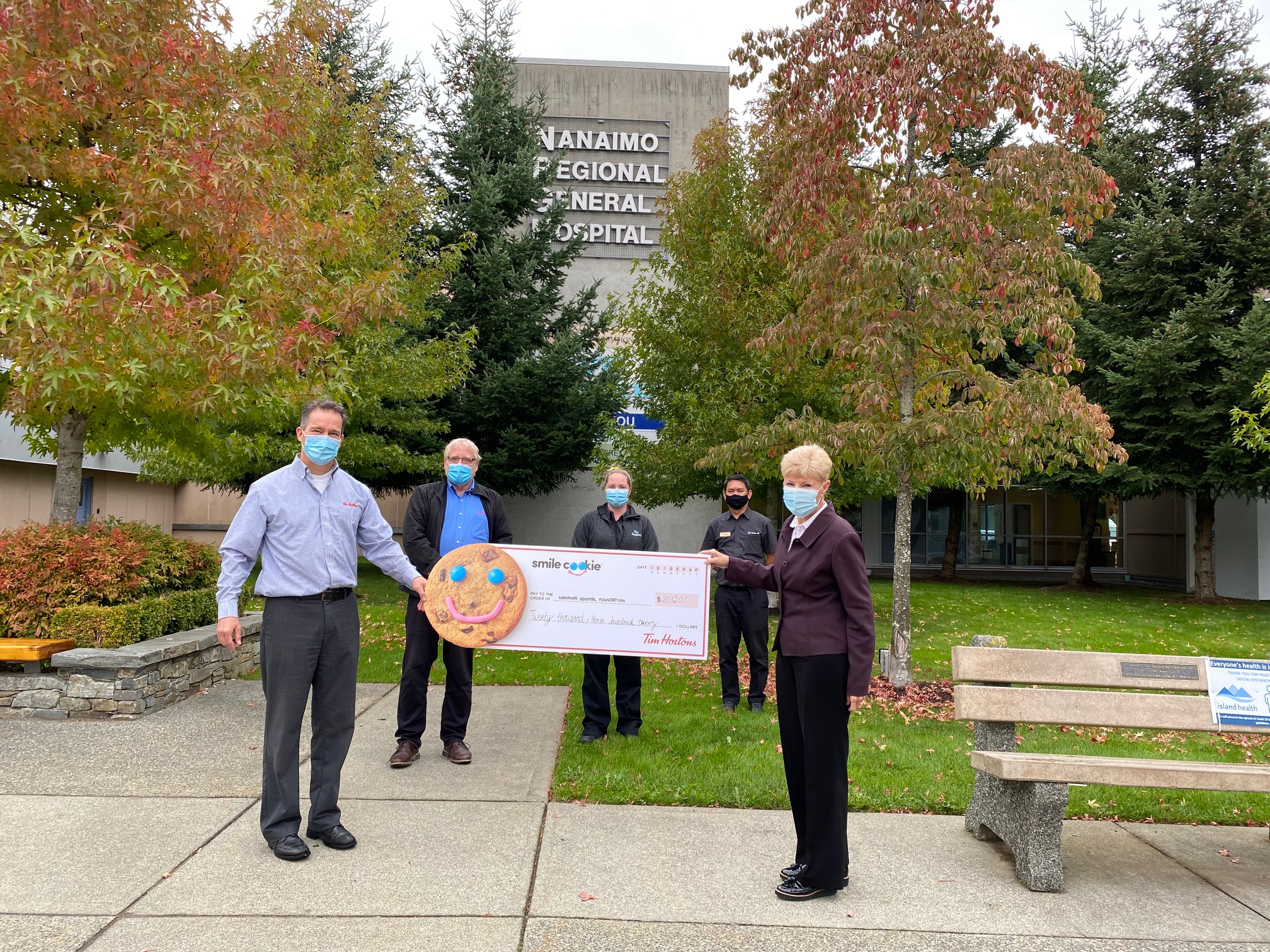 Thank you to everyone at Tim Hortons Nanaimo and the entire community for making the 2020 Smile Cookie Campaign such a tremendous success and raising $20,320!
The Nanaimo & District Hospital Foundation is grateful to be the recipient charity of the Tim Hortons Smile Cookie campaign once again. This year, 100% of the proceeds will help fund state-of-the-art medical equipment for the new Intensive Care Unit at Nanaimo Regional General Hospital (NRGH). To date, Tim Hortons in Nanaimo has generously donated over $170,000! And they did this with the help of you, our valued community members, who bought all those delicious cookies.
Past donations have supported other vital projects including constructing and equipping the new $1.75 million Endoscopy surgical suite; $1.8 million in renovations and new medical equipment for the Cardiac Departments at NRGH and Oceanside Health Centre; and funding all the medical equipment for the new Emergency Department which opened in 2012.
For every Smile Cookie you purchase between September 13 and 19, we get closer to our fundraising goal for the new ICU. You can get your Smile Cookies at the following locations.
2980 Island Highway North, Unit 200, Nanaimo
6892 Island Highway North, Nanaimo
1812 Bowen Road, Nanaimo
48 Tenth Street, Nanaimo
15 Wallace Street, Nanaimo
1980 Island Highway North, Nanaimo
6631 Island Highway North, Unit 102, Nanaimo
4575 Uplands Drive, Unit 301, Nanaimo
50 Snaw Naw As Road, Nanaimo
601 Bruce Ave, Nanaimo
2320 Northfield Road
You can also pre-order cookies in quantities of 12 or more! Download the pre-order form by clicking the button below, complete and submit the form to your preferred Tim Hortons Nanaimo location to pre-order and then pick up when ready. It's that easy!
SMILE COOKIE ORDER FORM
Photos from past Smile Cookie campaigns