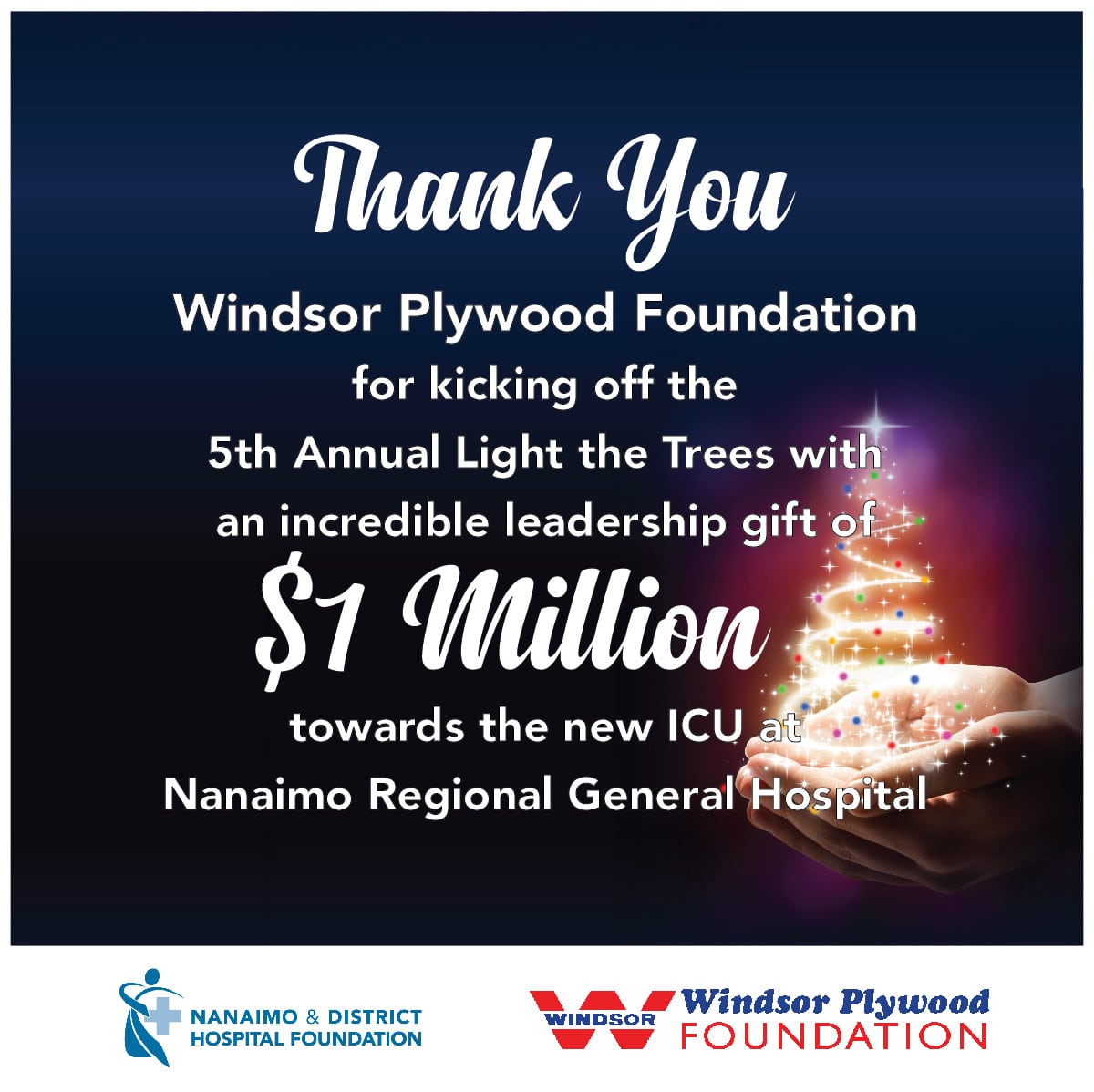 The Windsor Plywood Foundation has kicked off the 5th Annual Light the Trees with an incredible donation of $1 million dollars towards the Nanaimo Regional General Hospital's new ICU.
Windsor Plywood Foundation has a long history of giving back to the communities they live and do business in. Just like their website reads "Here to Help since 1969". With over 60 locations across Western and Central Canada and the Northwestern Unites States Windsor Plywood helps make our communities better. As true leaders, they have supported Nanaimo Regional General Hospital for over a decade, improving healthcare on our Island.
NRGH's current ICU is one of the oldest in BC. In 2013, an external review said despite the challenges in an outdated facility, NRGH's ICU ranks near the top nationally for positive patient health outcomes. The Nanaimo & District Hospital Foundation is proud to be raising $5 million towards all the state of the art medical equipment in the new ICU.
The new ICU will be located between the existing Emergency Department and the Perinatal/Renal building on the NRGH site. Construction is expected to get underway in early 2021.
"The Windsor Plywood Foundation is delighted to make this contribution to the new ICU at Nanaimo Regional General Hospital. The people of Nanaimo and its surrounding regions have been a large part of Windsor's success over the last 50 years and we are fortunate to be in a position to give back to these communities. We have seen firsthand how Central and North Island has grown, and how the need for a new and updated ICU has become increasingly critical. We look forward to this fantastic new addition to the residents of Central Island." Says Cathy Brown, Executive Director, Windsor Plywood Foundation
"This is an extraordinary gift for the Hospital Foundation, taking us to $3 million towards the $5 million goal. We still have a lot to fundraise, but the Windsor Plywood Foundation took us over the half way mark and we know our communities will take us the rest of the way. The Windsor Plywood Foundation understands that nothing is more important than the health of our residents. We can't thank them enough for their leadership with this inspirational donation." Janice Perrino, CEO, Nanaimo & District Hospital Foundation
For more information on the Nanaimo & District Hospital Foundation or to Light a Tree by making a donation towards the ICU campaign please visit https://nanaimohospitalfoundation.com/icu/