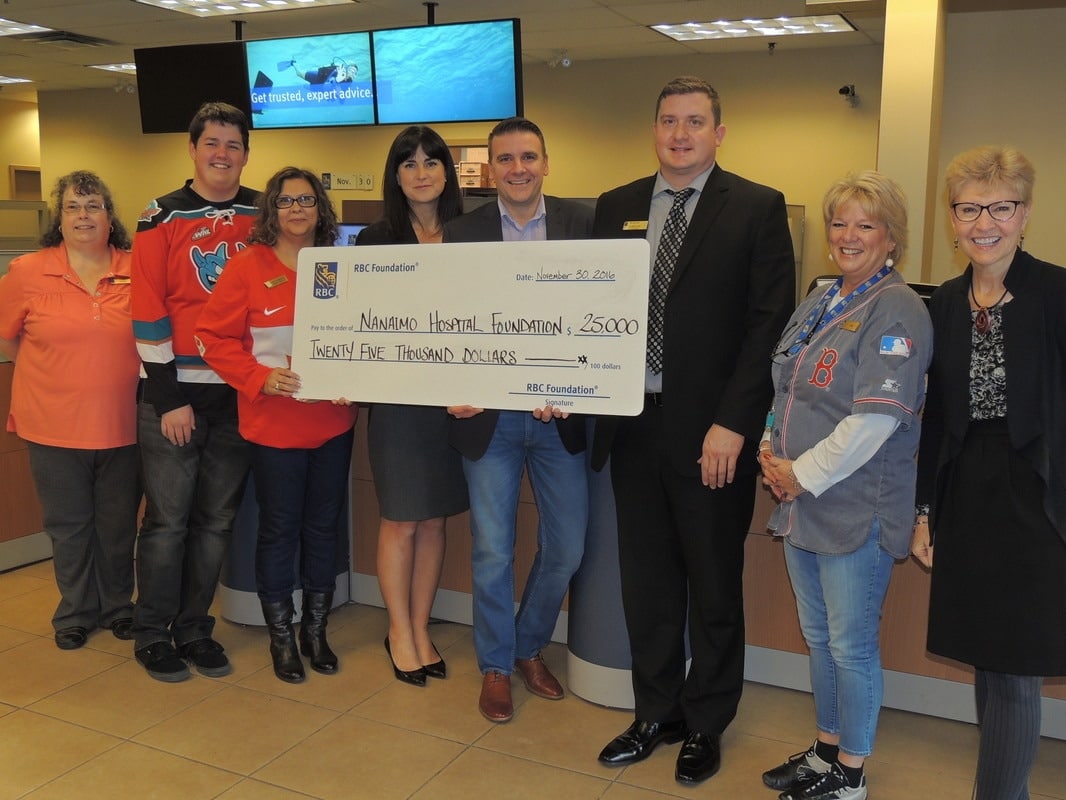 Janice Perrino (far right) accepts the donation from Kelly Bissell, RBC Regional Vice President North Vancouver Island; Matei Mateias, RBC Brooks Landing Branch Manager; Robert Lee, RBC Downtown Nanaimo Branch Manager; and RBC Brooks Landing staff, Elaine, Joel, Kaajal and Joni, celebrating their Annual Jersey Day.
The RBC Foundation has once again supported the health of Central Vancouver Island residents.
On December 1st RBC presented a $25,000 gift to Janice Perrino, CEO of the Nanaimo & District Hospital Foundation in support of their first annual Christmas Campaign 'Light the Trees'. Through the month of December the Foundation will be lighting the trees outside Nanaimo Regional General Hospital (NRGH) to show the progress of the donations coming in.
"This $25,000 donation will go to fund an ENT Microscope at NRGH, this is all part of our Christmas Campaign and we are so grateful to RBC for funding this piece of equipment that will help so many people", said Perrino.
Kelly Bissell, RBC Regional Vice President of North Vancouver Island, explained "We are more than happy to be able to give in a way that really impacts the whole community. This gift is possible thanks to our clients, who will benefit from this investment into our hospital." The RBC Brooks Landing branch recently celebrated their 50th Anniversary on November 24th and since partnering with Foundation RBC has contributed more than $300,000 to the health and wellness of the Central Vancouver Island community.