Supporting healthcare with every last drop!
Mon-Fri 6:30am to 8:30pm
Weekends & Stat Holidays 6:30am to 7:30pm
Payment Options:
Visa, Mastercard, Debit, Giftcards, Cash
Supporting healthcare with every last drop!
The coffee kiosk in the lobby at Nanaimo Regional General Hospital is owned and operated by the Hospital Foundation, with proceeds directed to the  purchase of medical equipment.  Code Brew serves a variety of freshly baked goodies, sandwiches, soups and salads and freshly brews 100% organic free trade Spirit Bear coffee and espresso for lattes, cappuccinos, mochas, and other specialty drinks.   Volunteers assist staff during the busy times of the day and are a valuable part of the customer experience!
Code Brew delivers within NRGH
Let us provide the refreshments for your next meeting. From carafes of coffee and tea, to platters of sandwiches, wraps, sweets, fresh fruit or veggies.
Catering order forms can be emailed to lorrie@nanaimohospitalfoundation.com or dropped off to the Kiosk staff.
24 hours' notice is strongly recommended for food orders.
Brighter Lights…. Less Energy
Code Brew has been raising funds for new LED Steris Surgical Lights for three of NRGH's Operating Rooms this year.   We are very proud to announce that with your help, this goal has now been reached!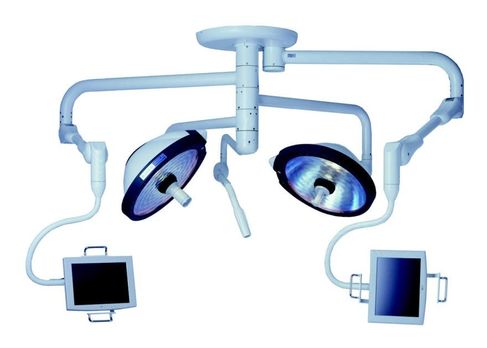 The new lighting systems provide powerful natural white light and are 34% cooler – which is important when you are gowned and gloved. $11,295 each
Code Brew's volunteers and staff are proud to be serving you as we raise funds for critical care medical equipment for Nanaimo Regional General Hospital. Together, we can do it!
Our volunteer barista shifts are 2 to 3 hours a week with full training provided.  Volunteers at Code Brew learn new skills, meet new people, and help raise funds to buy medical equipment.
"Volunteering at Code Brew has taught me many things and one of the most valuable lessons I have received is that volunteering isn't always about the hours but it's about the experience. Every time I show up for my shift I get to learn something new and I get to meet all sorts of wonderful people! By simply making a customer coffee or remember a regulars order, brings smiles to people's faces, especially mine. I'm always left with a warm and happy feeling at the end of my shift, realizing that because I volunteer I made someone smile. Volunteering at Code Brew and working with the Brew's family is such a special opportunity that I will always be thankful for. "   Baneesha Gill
Interested in making a difference? Join us today [CLICK HERE]
Easy to use, reloadable, and simple to carry – a Code Brew gift card is a convenient way to pay for your purchases at Code Brew.
Cleverly hole punched to affix to lanyard necklaces, the gift card will save you from carrying cash.
Makes a perfect gift for the healthcare professional in your life!
Check your gift card balance online   (Please note,  your "password" is the  3 digit number on the back of your gift card)
CHECK YOUR GIFT CARD BALANCE
Rules & Regulations
Card is redeemable for products/merchandise only.
Unused value remains on the card and cannot be redeemed for cash.
Card is reloadable. Additional value may be added at anytime from $1 to $250.
This is not a credit/debit card and has no implied warranties.
Code Brew is not responsible for lost, stolen or damaged cards or any unauthorized use.