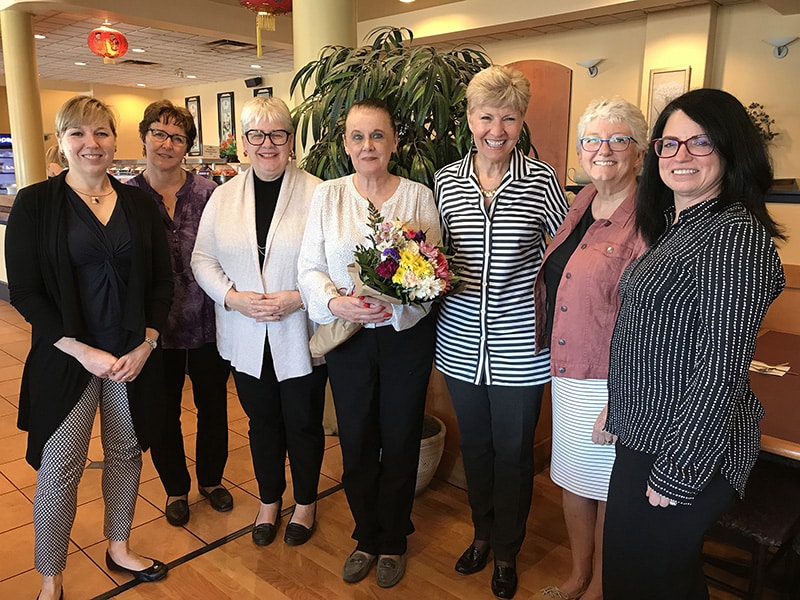 Congratulations to Lynn Taniguchi on her retirement! Lynn first started working with the Hospital Foundation in November 1999 and was an important member of the team until her last day in the office.
As the Development Assistant, so much of Lynn's work was behind the scenes but it was integral to everything we do at the Foundation. Lynn took great pride in her work and as she put it: "To come into work, sit down and get at it was how I rolled. I had a job to do and I thoroughly enjoyed doing it." She had the ability to tune out everything around her in our busy, and often noisy, office and focus on what needed to get done. She indicated that sometimes she was so focused though, it caused a few funny moments with her colleagues.
Over the years, Lynn had the pleasure of working with many people and she said that "to be able to learn and grow because of certain people and knowing they had your interests at heart is something she will not forget."
When asked if she thought she would be with the Foundation for 20 years, she replied that she had previously been with Hyatt Hotels for 18 years so, in some ways, is a creature of habit. Although she won't miss getting up at 5:30 am each day, she said she will miss the routine and daily interaction with her co-workers, many of whom who stand out in her mind. She joked that some days "I almost have to talk to myself to use my voice."
Not one to plan things too far in advance, Lynn is taking retirement day by day and enjoying the freedom to take things as they come. She will be dearly missed but we wish her all the best for this exciting next chapter of her life!
Photo: Rebecca Taylor, Nancy Scott, Sue Ryan, Lynn Taniguchi, Janice Perrino, Moira Jenkins and Tammy Paton