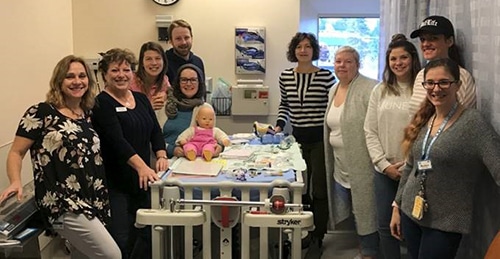 The Nanaimo & District Hospital Foundation supports leading edge care by funding professional development for medical staff. Whether it is a broader toolkit to assist patients in psychiatric or palliative care or advancements in post-surgical care, the Hospital Foundation is committed to funding relevant, transferable and innovative learning to support better health outcomes for patients.
With constant advancements in healthcare knowledge and techniques, continuing education is essential in all areas of care. For example, emergency nursing care of a child with an acute illness or injury requires special knowledge and skills. Wanting to be able to deliver the best care possible to young patients, RNs at NRGH recently took an Emergency Nursing Paediatric Course (ENPC). The ENPC, an intensive two-day course with an expert instructor, provides the core-level paediatric knowledge and psychomotor skills (skills where movement and thinking are combined) needed to care for paediatric patients in the emergency setting. And the staff appreciate the impact of ongoing learning including the greater depth and breadth of knowledge that improves the care they can provide to patients on a daily basis.
"ENPC provides an opportunity to practice hands on skills and also offers valuable information and education specific to caring for Paediatric patients and their families. This course and the instructors offered great examples and suggestions that I will be able to implement in my nursing practice and share with other Paediatric team members. It was a truly valuable course experience and I am grateful for the opportunity to be included."  Carly Tarr, RN, NICU/Paediatrics
As a Pediatric nurse, the ENPC course is extremely important in our continued learning. For me personally, I feel more confident in the care that I give my patients along with feeling more prepared for emergent situations.  Nikki Adshead, RN, Paediatrics
I have been a nurse for 10 years, with the past 4 years at NRGH. ENPC is an excellent course with lots of hands-on practice. It has helped me feel more prepared and confident in recognizing and treating an acutely ill child.  Eileen Bergstreser, RN, Paediatrics
The Hospital Foundation is grateful to our generous donors whose gifts enable the funding of such important continuing education.
Photo: Andree Lineker, Leslie Sundby (instructor), Andrea Bertulli, Jamie Derksen, Clayton Brocklehurst, Eileen Bergstreser, Nikki Adshead, Carly Tarr, Jill Holt, Shannon Scarisbrick