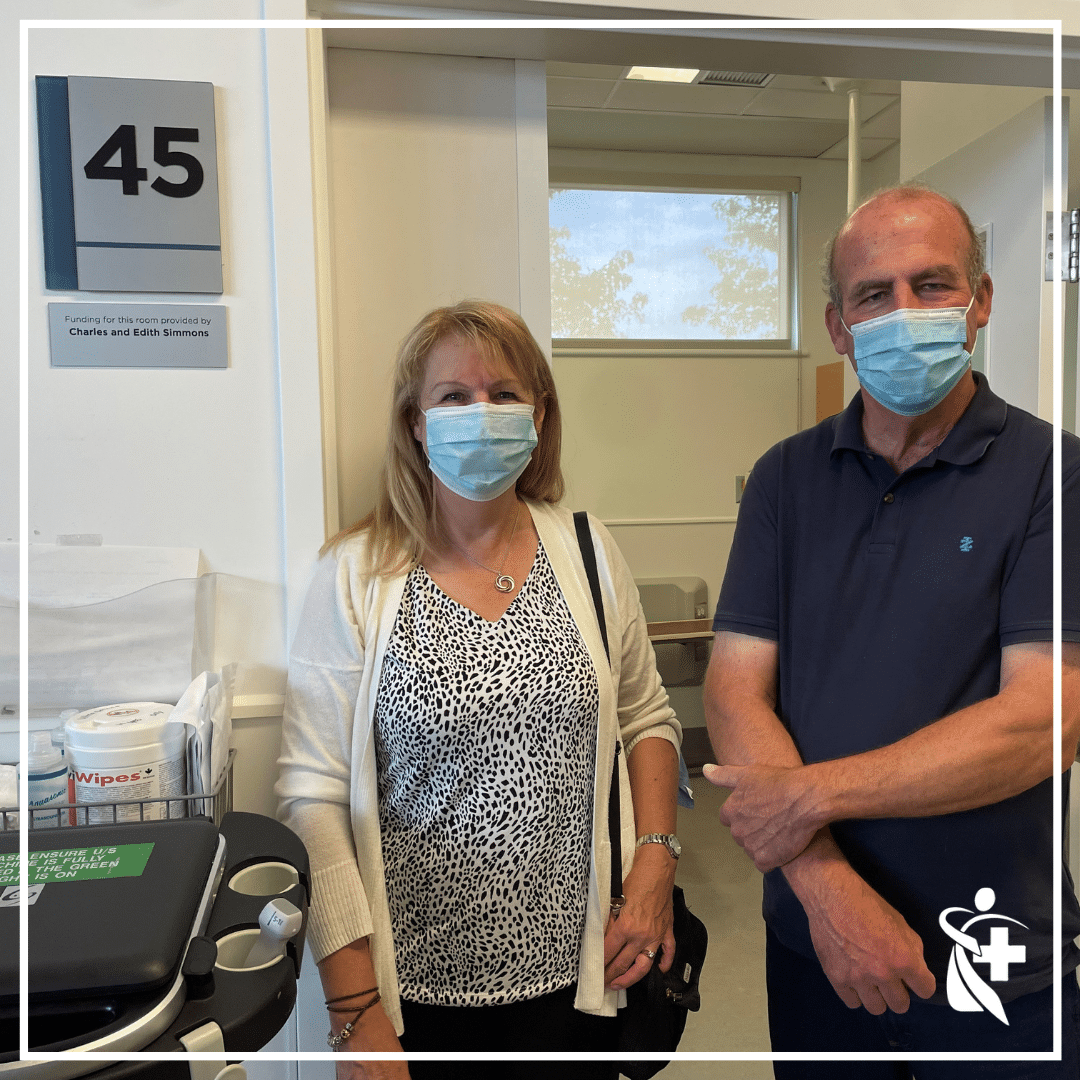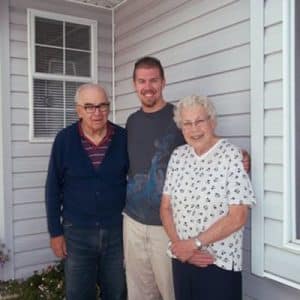 Charles and Edith Simmons were married for an amazing 63 years together and had two wonderful children, Jeff and Beverley (Bev), who we at the Nanaimo & District Hospital Foundation had the pleasure to get to know recently. Edith passed away in 2015 followed shortly after by Charles in 2016, and they left a gift in their will Nanaimo Regional General Hospital (NRGH). In 2017, we named a patient care room in the Emergency Department in celebration of their generous gift.
Delayed by COVID, Jeff brought his sister Bev to NRGH to see their parents' plaque in August 2022. We all had a wonderful tour of the Emergency Department, which is coming up for the 10th anniversary of its renovation!
The Emergency Department at NRGH typically sees 180 patients per day, a number that has jumped to 210 over the past six months. This marks a 16% increase in patients which may not sound like much, but we were assured it makes a huge impact on the day-to-day operations and capacity of the Emergency Department. That's why the design of it is so special. The department boasts a unique design with streaming care in mind: a form of triaging that allows higher needs patients quicker access to services, with a dedicated area away from lower needs patients. "The infrastructure in this department is person- and patient-centric," said Rebecca McGregor, Manager of NRGH Emergency Services. "The design of it is unique in north America. We wanted to make sure patient care, not metrics, drove its design. Patients are our top priority at NRGH."
The Charles and Edith Simmons Patient Room is a special place inside the Emergency Department that is designed to be a safe, quiet space away from the milieu of the larger department. It is reserved for patients that have experienced trauma or who may have to undergo unsettling exams or treatments for their issues. "Everything can happen in here," McGregor told us. "We designed this room to have enough space for family, friends, counsellors and other resource providers to be with the patients. It can also house any machines required for exams to address a number of issues."
For Jeff and Bev, the visit was a wonderful reminder of the generosity of their parents, and a great opportunity for the two of them to visit with one another. They share a love of motorcycling, and we laughed as they reminisced about their fun trips around Canada and to the states. Bev is a bit of a daredevil, and Jeff was accepting of this but still appropriately concerned for his sister's safety. There was good-natured ribbing all around, which is indicative of their upbringing with parents who, by all accounts, both had wonderful senses of humour.
Jeff and Bev, it was a pleasure to meet you. We look forward to seeing you again.
The Nanaimo & District Hospital Foundation fundraises for state-of-the-art medical equipment for our hospital other healthcare facilities in our region. Right now, you can help us fund the purchase of all critical care medical equipment needed for the new Intensive Care Unit at the Nanaimo Regional General Hospital, expected to open in late 2023. To make a donation, please visit www.nanaimohospitalfoundation.com/donate.
-The Nanaimo & District Hospital Foundation
Main photo: Beverley and Jeff Simmons
Second photo: Matt (Beverley's son) with Charles and Edith Simmons, 2015
***
From Jeff and Bev Simmons, 2017
 From the inception of their time together, it was to be a solid and unwavering 63-year marriage. It began when our Mom was actually dating two fellows at the same time, our Dad being one of them. One day, the other fellow telephoned our Mom at her family home and her father picked up the phone and said, "That you Charlie?" Needless to say, from that day forward it was to be only our father for the remainder of mom's days.
They both had strong roots in Vancouver BC, and never strayed very far from this province in their travels. They felt a strong tie to the Pacific Northwest coastal area, and so focused their pleasure time on and around those ocean waters by boat.
Our parents, aka Chuck and Edie, began their married life in the Lower Mainland. They were true West Coasters and we always had boats on which we spent many weekends and summer holidays cruising and fishing the West Coast.
In the late 60's we moved to Castlegar in the West Kootenay. Dad became Chief Electrician at Trail Regional Hospital and worked there until his retirement in 1989. He certainly knew the intricacies of a hospital and took a special interest in the elevators and the diesel powered back-up electrical system. He would often travel to the Penticton Hospital as well where he looked after the elevators and back-up power systems there. Dad was a member of the Castlegar RCMP Auxiliaries and also the local SAR (Search and Rescue) organization.
Mom worked for the Castlegar RCMP Detachment until her retirement about the same time as Dad's. We aren't sure of her exact title, but she was referred to as "Mom" by all the Members at the Detachment. It was not uncommon for us to have a member on duty in uniform at our house for Sunday and Christmas dinners. It was also not unheard of for a member to show up for breakfast after the end of night shift. Mom was an avid gardener and also enjoyed sewing and knitting.
Funny story, some time after I (Jeff) had left home, I was stopped for a traffic infraction on Hwy 99 near the Deas Tunnel. When the officer saw my licence he asked if I was related to Edie in Castlegar. When I said yes, he blurted out "you're Mom's kid!!!" He had been transferred to Delta from Castlegar. We had a few laughs and swapped stories there on the side of the highway, and sent me on my way. Told me to slow down though.
Bev was always in demand to be a New Year's Eve babysitter amongst the detachment members, and they would put their reservation in early to retain her.
Shortly after retiring, Chuck and Edie returned to their West Coast roots and moved to Halfmoon Bay on the Sunshine Coast where they had been building their retirement home. They lived there until 2006 when they moved to Nanaimo. In their retirement years, they enjoyed camping in one of the many RVs they owned. They were also members of the Old Car Club and owned and toured in their old restored cars.
As they aged and their medical needs began increasing, they found it difficult to live on the Sunshine Coast and commuting to Vancouver for services that were not available there. The move to Nanaimo solved that as everything they needed medically was here at the Nanaimo Regional General Hospital.
Their final few years included many visits to NRGH Emergency Department. They were always treated with respect and kindness and received top notch medical care from true compassionate and professional caregivers. Something Chuck and Edie wanted to do in their final wishes was to give back to the facility that had looked after them so well when they needed it.