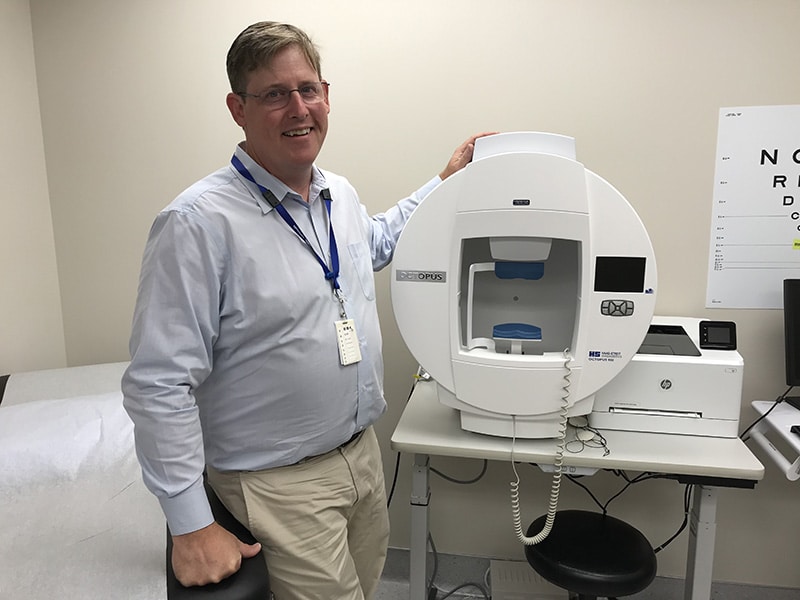 Thank you to the Mr. and Mrs. P.A. Woodward's Foundation for their generous donation which paid for an Octopus Perimeter at NRGH. The addition of the Octopus Perimeter has made an immediate and significant impact for residents of Nanaimo requiring special field of vision testing.
Octopus Perimeters are the gold standard for field of vision testing. They have the most advanced technology to determine if an individual has the vision required to drive again. The test is extremely thorough and can take 30 minutes or more compared to the basic tests available at an ophthalmologist's office. Its reliability is further enhanced by the expertise of the doctor and technician who administer it as they are able to observe the patient's reactions throughout the test and refine and adjust as needed for optimal results.
Access to this specialized medical equipment at NRGH is important for so many reasons. Until a patient is diagnosed, they are unable to drive. For all patients, this means losing their independence and being reliant on other people and modes of transportation to do things from basic errands to getting to work on a daily basis. This can add emotional and financial strains to an already stressful situation for both the patients and their families.
"The new Octopus Perimeter has a tremendous impact on patients who need access to advanced field of vision testing. Prior to acquiring this equipment, patients had to arrange for alternate transportation to Victoria for this test and were often faced with long wait times. Now we can see patients within a few weeks, enabling them to move forward with their lives sooner."  Dr. Sutton-Brown
The majority of patients who require this test have experienced a stroke but other neuro-ophthalmology patients also benefit. Information regarding the Octopus Perimeter testing available at NRGH has been circulated to local ophthalmologists to ensure patients in Nanaimo get the specialized vision testing they need close to home.
The impact the Mr. and Mrs. P.A. Woodward's Foundation has had over the years for patient care in Nanaimo is significant. With over $533,000 invested in leading-edge medical equipment, more residents in Nanaimo are able to get the care they need sooner thanks to their generosity.
Top Photo: Dr. Sutton-Brown
Left Photo: Jackie Lee-Son, Executive Director, Mr. & Mrs. P.A. Woodward's Foundation and Janice Perrino, CEO, Hospital Foundation
Right Photo: Octopus Perimeter