The Faces of
Philanthropy
Every so often we are touched by the story of a donor and the inspiration behind their generous spirit.
Three Generations Tee up for Charity       
When Stephen Watson signed up his son Jon Robbie for our 25th Annual Golf for Life Charity Classic, we were delighted. Not only was he our youngest player ever at 12 years old, he was the third generation of Watsons to play! On September 7th, Jon Robbie, his father Stephen and his grandfather John teed up together.
Both John and Stephen are long time golfers. Stephen got into golf when he was young which he appreciates as it provided him with life skills and the enjoyment of playing the sport. As it can be played for life (John is 79 years young and still playing strong) and enables quality time together as a family, Stephen got Jon Robbie into golf at a young age as well. Based on his play that day, he is a natural like his father and grandfather.
When asked what it meant to play together that day, Stephen noted his pride in his son's playing and having the shared experience with both his son and father. John added that it was a fantastic experience and a privilege to play together for such an important cause. And from the tone of his voice, it was more than evident that John takes pride in his son and grandson.
The Watsons choose to play in this tournament as they all have a personal connection to Nanaimo Regional General Hospital. Stephen and Jon Robbie were born there, John went there for cardiac care and his mother was cared for there before her passing. Playing in the tournament and through other contributions (John's wife Dorothy also volunteered for our Lifeline program for about 10 years!) is their way of giving back and supporting the hospital that has been there for their family for multiple generations.
John and Stephen have played in over 12 Golf for Life tournaments and have both been on numerous winning teams including at the 20th annual event where they were an incredible 19 under par! It's safe to say we'll be seeing them next year and we hope Jon Robbie will be joining them again.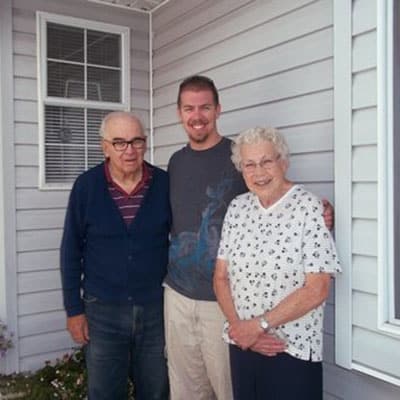 From the inception of their time together, it was to be a solid and unwavering 63 year marriage. It began when our Mom was actually dating two fellows at the same time, our Dad being one of them. One day the other fellow telephoned our Mom at her family home and her father picked up the phone and said, "that you Charlie?" Needless to say, from that day forward it was to be only our father for the remainder of Mom's days.
They both had strong roots in Vancouver B.C., and never strayed very far from this province in their travels.
They felt a strong tie to the Pacific Northwest coastal area, and so focused their pleasure time on and around those ocean waters by boat.
Our parents,  aka Chuck and Edie,  began their married life in the Lower Mainland. They were true West Coasters and we always had boats on which we spent many weekends and summer holidays cruising and fishing the West Coast. In the late 60's we moved to Castlegar in the West Kootenay.
Dad became Chief Electrician at Trail Regional Hospital and worked there until his retirement in 1989. He certainly knew the intricacies of a hospital and took a special interest in the elevators and the diesel powered back up electrical system. He would often travel to the Penticton Hospital as well where he  looked after the elevators and back up power systems there. Dad was a member of the Castlegar RCMP Auxiliaries and also the local SAR ( Search and Rescue ) organization.
Mom worked for the Castlegar RCMP Detachment until her retirement about the same time as Dad's.  Not sure of her exact title but she was referred to as "Mom" by all the Members at the Detachment. It was not uncommon for us to have a member on duty in uniform at our house for Sunday and Christmas dinners. It was also not unheard of for a member to show up for breakfast after the end of night shift. Mom was an avid gardener and also enjoyed sewing and knitting.
Funny story, some time after I (Jeff ) had left home I was stopped for a traffic infraction on Hwy 99 near the Deas Tunnel and when the officer saw my licence he asked if I was related to Edie in Castlegar. When I said yes he blurted out "you're Mom's kid!!!".  He had been transferred to Delta from Castlegar.  We had a few laughs and swapped stories there on the side of the Hwy and sent me on my way. Told me to slow down though.
Bev was always in demand to be a New Years Eve babysitter amongst the detachment members, and they would put their reservation in early to retain her.
Shortly after retiring they returned to their West Coast roots and moved to Halfmoon Bay on the Sunshine Coast where they had been building their retirement home. They lived there until 2006 when they moved to Nanaimo.
In their retirement years they also enjoyed camping in one of the many RV's they owned. They were also members of the Old Car Club and owned and toured in their old restored cars.
As they aged and their medical needs began increasing they found it difficult living on the Sunshine Coast and having to commute to Vancouver for services that were not available there. The move to Nanaimo solved that as everything they needed medically was here.
Their final few years included many visits to NRGH Emergency Dept. They were always treated with respect and kindness and received top notch medical care by true compassionate and  professional caregivers. Something  they wanted to do in their final wishes was to give back to the facility that had looked after them so well when they needed it
(Submitted by their children Jeff and Bev)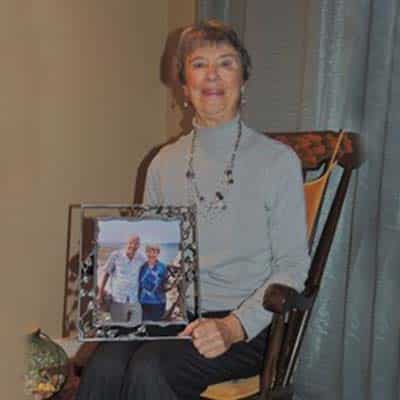 Marjorie Wilkie smiles fondly as she remembers the time when Herb's work took them to 8 different states when the kids were young. "We finally settled back in Australia for a bit before returning to the states once again.
It's this kind of family adventure that was at the forefront of their lives together. Marjorie's face lights up when she unfolds the world map that shows all the places they visited as a couple and as a family.
Herb, born in Connecticut, was a professional fundraiser; "Before organizations hired their own professionals, Herb consulted with hospitals and colleges all over the US and Canada" Marjorie recalls; "He eventually came to Australia and that's where he met me".  When their three children grew to school age, they settled at the Wilkie ancestral home in Stamford, New York – a tiny town of 1,000 people in the Catskill Mountains.  There they ran a Montgomery Ward catalogue franchise for 17 years until the long running catalogue company shut down in 1985. Always the adventurers, Herb and Marjorie made their way west in 1986 to see the World Exposition on Transportation and Communication in Vancouver, or as we all remember it; Expo '86. They decided to spend the day on Vancouver Island and as most people do, they fell in love with the Island. What was a 'day' trip turned into the next 30 years of their lives. The Wilkies ran the Lookout Bed & Breakfast in Schooner Cove, Nanoose Bay for 17 years, until their second retirement finally took and they settled in Parksville.
In the Parksville community Herb volunteered by sitting on the S.O.S. Board of Directors and with Marjorie delivered meals on wheels & drove seniors to medical appointments and actively participated in the life of Knox United Church. Herb also helped to bring the first Probus club to Nanoose Bay.
In 2014 Herb went to the Oceanside Health Centre with a suspected heart attack and was rushed to Nanaimo Regional General Hospital where they confirmed the diagnoses. "I am sure they saved his life", says Marjorie; "He had wonderful care". Marjorie was blessed to have Herb with her for another two years until a fall in 2016 revealed a cancerous kidney that quickly spread to his lungs and took his life in only a month.
Herb was given such loving care and attention throughout his illness that Marjorie decided in November to give a gift to the Foundation in support of diagnostic medical equipment at the Oceanside Health Centre. Marjorie's gift is making a significant difference to the many Oceanside residents who use the centre and will help in diagnosing cancers like the one that took Herb. "He tried so hard to get home", Marjorie says "but that wasn't meant to be". Herb may not have come home but his generosity of spirit will live on in the legacy of giving that Marjorie has continued in his name.
The Nanaimo and District Hospital Foundation is incredibly thankful to Marj Wilkie for her support in the purchase of medical equipment for the Oceanside Health Centre.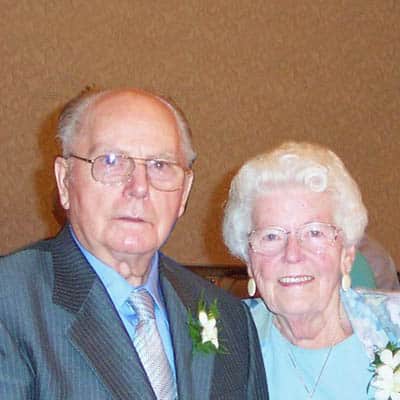 Mr. Gerald Leslie Fetterly was a remarkable man. The oldest in a large family, he left home a the age of twelve to earn his own way in life. First working as acook in a northern Ontario work camp, then riding the rails across the country to British Columbia where he was a sherman, a taxi operator, open pit miner and a builder. He was a member of the Masons, a storyteller and a great friend. A testament to this was his 80th birthday when hundreds of people appeared to wish him the best. He excelled in many talents, but had a special a-nity for working with wood. In 1972 he built his own home and that expression of creativity served his desire to pay tribute to his beloved wife Eileen. He used the sale of his home to invest in those that shared her passion for healthcare.
In his Will Gerald left instructions for the Nanaimo & District Hospital Foundation to create educational bursaries for nursing students in Nanaimo. He knew the value of a nurse to a community and requested the establishment of the "Eileen Margaret Jackson Endowment Fund" in honour of his late wife Eileen. As a young nurse Eileen worked 12-14 hour shifts in Winnipeg General Hospital, the Veteran's Hospital, and then in maternity at Winnipeg's Grace Hospital. Her enthusiasm soon turned to public health and she earned her role as head of the Public Health Department in Winnipeg through experience and further education. She spent many hours a day on house calls specifically requesting the most poverty stricken neighbourhoods, knowing that was where she was needed most. Upon retirement in the early 1980's she moved to the BC Coast where she met and married Gerald.
Due to the vision and forethought of Gerald Fetterly, the Nanaimo & District Hospital Foundation now awards three annual bursaries of $1,000 each to high-school graduates of School District #68 entering into the eld of nursing. This legacy gift is not only generous; it creates a lasting dynamic testament to Eileen, a pioneer in public health whose passion for healthcare now transcends her life.